When we first started HubSpot Academy back in 2012, there were zero other company academies out there for us to learn from.
Salesforce's Trailhead didn't even exist yet.
A decade later, the education industry and profession has gone from experimental to fundamental.
A Forrester report commissioned by Intellum found that 90% of companies have seen a positive return on their customer education investments.
The impact customer education has on the business has grown, and growing in tandem, are the myriad of resources available to help advance the industry.
Answers to common education and training questions are a simple Google search away, and there are books, podcasts, and communities dedicated to helping our profession level up.
There has never been a better time to be in customer education.
Below is a list of resources to help you, and your education program, succeed:
Communities
A wildly loved favorite, this free community has over 2,800 customer education professionals connecting and learning from one another. Slack channels include certifications, job postings, data masterminds, events, onboarding, trends, customer training, etc.
Articulate's E-Learning Heroes is a robust community for e-learning creators. While many of the discussions focus on using the Articulate software, not all of them are. You can see the most recent discussions without even logging in, to see if it's the right community for you.
Created by Tim Slade, this community is created for instructional designers looking to connect, network, and learn from each other.
CEdMA, a Customer Education organization, provides valuable resources, including industry insights, best practices, and networking opportunities for its members - executives, managers, and professionals at tech companies responsible for modern technical learning programs. They have over 600 members, representing over 100 technology companies.
CEdMA offers two membership types: company and individual. An individual membership is $200/year, and company membership begins at $1,500 a year.
In-Person Meetups
---
Podcasts
CElabs: Customer Education Labs
Hosted by Adam Avramescu and Dave Derington, their podcast episodes over a wide range of topics with a focus on customer education. They interview some of the industry thought leaders to learn from their career experience and share snackable insights too.
Hosted by Alexandria Clapp, The Accidental Trainer covers trends, strategies, and actionable information for talent development professionals. It features bi-monthly interviews with industry experts who share stories and tips about how to grow your training career. 
The Leading Learning Podcast was created for organizations that serve the market for continuing education, professional development, and lifelong learning. Each episode offers a new round of expert insights and perspectives to help learning businesses thrive.
Lead Analyst and Founder of Talented Learning, John Leh, is on a mission to help organizations transform learning programs for employees, customers, channel partners, and others across the extended enterprise value chain.
Topics covered:
Best practices in modern LMS evaluation, selection, implementation, and customization

How to drive engagement through capabilities such as personalized learning experiences and branded content, social and mobile strategies and ecommerce

Leading-edge technology trends involving AI, AR/VR, video, APIs, learning analytics and more
---
Newsletters
Researched-backed evidence-based best practices to help you create effective learning environments and impactful educational experiences.
---
As learning professionals, we understand the power of inspirational examples.
This database is a curated list of top customer education company academy examples.
There are over 50 examples of academies available for you to review and learn from.
Each profile has varying amounts of information, but you can expect to see information like the following:
Facts
Number of courses: 

Indicative course names

Average course duration

Average video duration

Supported Languages

Hosting platform
Key features
Certification
Assessment
Professional Editing
Live-action videos
Monetized
Industry Education
Video courses
Tips from Creators
How old is the Academy?

What are your favorite tools and gear?

Who do you take inspiration from?

How many students go through the Academy per year?

What does your program receive praise for?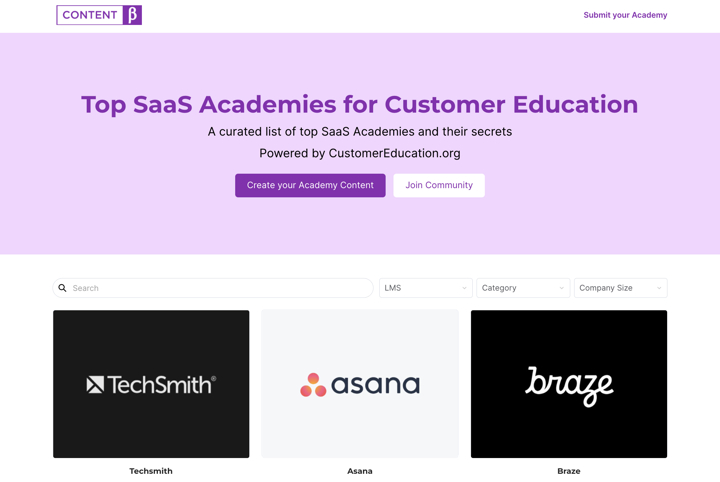 ---
The LearnWorlds team compiled a list of over 75 customer education experts, who you can reach out to at any point and get advice on how to create a successful customer training program.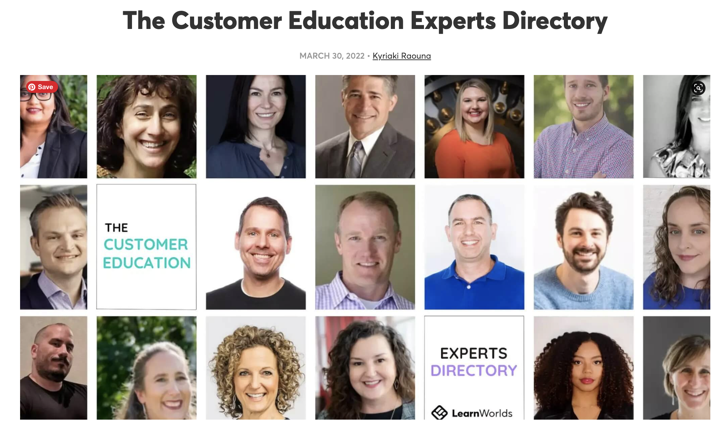 ---
Industry Reports
---
Books
---
Advising Services
These types of 1:1 resources can be especially beneficial when considering:
"What strategies are we missing?"

"What common pitfalls can we avoid to shorten our learning curve?"

"What should we do next?"

"How can we grow our program to the next level?"
Donna is the author of, "Onboarding Matters: How Successful Companies Transform New Customers Into Loyal Champions" and industry expert.
You can hire Donna for an onboarding audit or ongoing trusted advisor services.
Heidi is a learning professional with almost a decade of experience designing, developing, planning, and implementing learning solutions and programs. She's worked for companies like NASA, Medical Mutual, The University of Florida, and more across higher education and corporate, and is also completing her PhD in Instructional Design and Technology.
You can hire her advising services one-off or for ongoing advising.
We're the founding team who built HubSpot Academy and then led several initiatives, teams, and programs over the course of the next 10 years to grow the learner-base from zero to millions of people a year.
Hire us as your trusted advisor to be a sounding board, provide knowledge transfer, review your content before going life, and so much more. Our goal is to help you shorten the learning curve and see more success in less time.
We offer advising packages for companies, and coaching packages for individuals. Contact us to see how we can help, or schedule a free advising session.
Outsourcing
If you're looking to hire an organization to build your courses or classes for you, Allarium is a great option.
Content Beta helps SaaS engage, convert and retain users with marketing and training videos on autopilot, in less than two weeks, at a third of the cost of a traditional video agency.
---
Did we miss something or someone? Send us a note to let us know what to add.