Why create a Corporate Academy?
The benefits of starting a corporate academy at your software company are immense.
If done well, they have the power to transform every area of your business. From increasing revenue and retention to growing your company's thought leadership in its category, to scalably educating your company's partners and future employees.
Below are just a few more prominent benefits companies experience when creating a successful corporate academy.
Educate & train customers
Educate your customers to be successful with your product in a scalable way.
Forrester quantified the impact on an organization when there is a formalized customer education program. They found the following results:
6.2% increase in revenue
7.4% increase in customer retention
7.1% increase in lifetime value
11.6% increase in customer satisfaction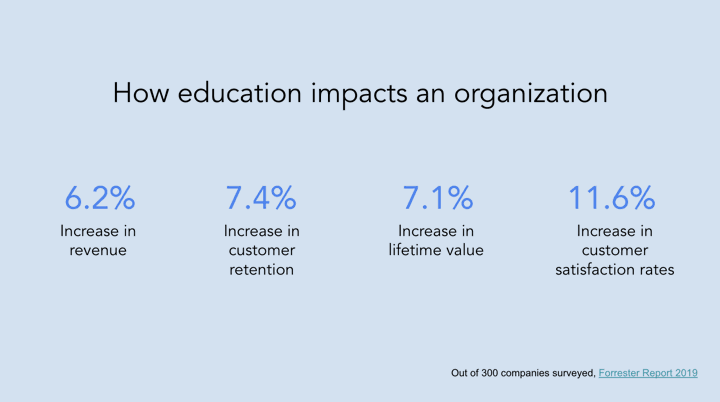 Additionally, some of those happy and successful customers will become power users who improve your software through user feedback programs or become advocates in the market that help grow your business.
Ultimately, companies that choose to educate the market and set it up skillfully can expect the following benefits:
Increase in product adoption
Increase in retention
Increase in cross-sell/upsell
Increase in Customer Lifetime Value (CLV)
Increase in NPS/CSAT
Increase in company promoters
Increase in conference and user group attendance and community engagement
Increase in the number of users who provide crucial software feedback
[Want deeper explanations on these benefits above? Read 14 Reasons to Create a Corporate Academy & Why It's Important]
Educate & train the market
According to Dell Technologies and Institute For the Future Report, 85% of jobs in eight years (2030) don't yet exist today.
There's a lot of change ahead.
With everything changing so fast and new concepts and methodologies emerging, people in today's workforce need to be constantly upskilling, which creates a tremendous opportunity for organizations to be the "go to" source of information for their industry.
By creating education for your market, you tell the narrative that can lead your category while increasing your brand's visibility and building a pipeline of potential customers or users.
Ultimately, companies that choose to educate the market, and set it up effectively, can expect the following benefits:
Increase in leads
Increase in likelihood-to-close
Lower lead-to-close time
Lower customer acquisition costs
Increase sales pipelines
Increase in brand visibility, credibility, & PR mentions
Increase in inbound links


Educate & train your channel partners
With a training program, you're creating more knowledgeable and up-to-date partners, making it easier for them to be successful. And a more successful partner program will increase sales, improve market ownership, and lead to happier, more successful customers, leading to improved revenue and customer retention.
While a corporate academy won't eliminate the need for 1:1 partner onboarding, conversations, and support on sales demos, it removes the repetitive training needs and questions that your channel team regularly faces.
A more educated channel program means a more empowered channel program.
Educate & train your employees
A recent study from IBM found that 84% of high-performing employees receive the training they require, compared to only 16% of employees at low-performing organizations. The correlation between employee training and success is clear.
For organizations to be successful, it starts with the employees having what they need to succeed.
Corporate Academies for employees often provide two types of training:
onboarding
continuous education
An academy is particularly transformational for high-growth companies that are onboarding many new hires a month. The study from IBM also found that new employees who do not feel they can achieve their career goals at their current organization are 30 times more likely to consider leaving than employees who feel they can achieve their carer goals. As new people join the organization, the need for scalable training that helps get them ramped up and is consistent and unified in the message grows.
Similarly, as your company evolves and introduces new products, expands into new markets, and rolls out new company-wide goals, you need up-to-date training to empower your people so they can advance your business. Corporate academies are also useful to get everyone aligned when carrying out large change initiatives and strategic projects.
Scalable training is the most productive and efficient way to do this.


A centralized hub for education
While a corporate academy can have a singular focus aimed at any of the target learners mentioned above, the value can extend to the complete value chain of the business by becoming the centralized learning function for all.
New data from the Customer Education Council Report 2022 states that ~42% of education teams sit within the customer success department, ~13% sit within marketing, and ~11% are their own department. While these numbers might be skewed because the report was created by the Customer Education Council, one thing is for certain -- there isn't one place that a centralized education hub should sit, but rather it depends on the unique needs of the business.
Create an ecosystem around your business
In a recent Ernst & Young piece, ecosystems are becoming increasingly prominent in businesses:
"I think the evidence is now clear that we are entering an era of ecosystem where most companies will heavily utilize ecosystem business models to drive innovation and the pace and capital efficiency with which they create customer value."
Boiled down and tailored to specifically Corporate Academy, the more your education programs grow, the more significant your impact on the business will be.
Salesforce's Trailhead is an excellent example of an ecosystem.
Trailhead has many hallmarks of today's top Academies. It offers training modules and certification programs, but they do much more.
It also connects software users through community, outlines career paths for industry professionals, helps users find new jobs and get promotions, shares inspirational stories of success, invites them to events they host, and more.
Individually, Trailhead programs and products are helpful, but collectively they're more potent because they interact together to deliver more profound value to their learners and software users.
You build a transformational corporate academy with loyal fans when your learners can trust you to help them level up their careers, and lives like Salesforce's Trailhead does.
Some ideas for creating an ecosystem built around education include:
Certifications & badges
Community
Local (or virtual) events for learners
Job boards
Forums or channels to engage and help one another
Success stories and learning examples
Provide career paths for learners
Connect certification badges to LinkedIn
Education Partner Program
Train-the-Trainer Program
Other unique content, access, or discounts for your Corporate Academy learners


See & create additional business opportunities
Once many learners are going through your training programs, it's easier to mine the data to see potential opportunities and trends worth pursuing.
Here's a personal story to illustrate this example:
When we first started the HubSpot Academy team back in 2012, we had one goal: to educate our customers.
However, the more educational content we built, the more people we began to help, the easier it was to use the volume of data to identify high-value opportunities.
For us, we noticed a trend emerge from our customer training content - people who weren't yet customers (aka leads) - were joining our customer-only trainings. When we took a step back and looked at the data, we realized there was a gap in education for modern marketers using HubSpot or not, which resulted in industry-focused education and certifications.
And then, after a few years of educating the market, we noticed a handful or two University professors taking our certifications, which led to the creation of the Education Partner Program.
There are countless examples of how we used the data of our existing program to identify opportunities to create new training, improve current training, build new programs and expand our learner-base, which ultimately grew our impact.