Are you hiring a program manager for your customer education program?
Right on!
Part of finding the perfect candidate is writing the perfect job description. This step cannot be understated since each person on your team is essential to your customer education program's operating ability and, ultimately, its success.
While your recruiting team or manager might already have a template for you to work off of, we break down the sections you need and some considerations.
Here's how we would do it.
Get the Title Right
Some companies will state that titles don't matter.
However, ask any employee today, and you'll find that titles are critical in deciding which job to apply for.
Titles matter a lot because they:
Help qualified candidates to find your open role

Indicate the person's level of responsibility, the level of authority they have, and the level of seniority within an organization
Set expectations on how you will assess a candidate's performance
Indicate the salary range they expect to receive, as employers usually allocate salaries based on the job title
If you're hiring for a "Customer Education Program Manager," that title alone might be enough; however, if they'll be managing people in addition, you might want to use one of the following titles:
"Customer Education Manager"
"Manager, Customer Education Program"
"Manager, Customer Education"
One other thought, if this role is remote, highlight that in the title! Many of today's candidates are looking for remote-only jobs, which can help set you apart from other job postings.
Overview
(of Education Program, Job Role & Potential Impact)
While some companies start with an overview of the company, others start with an overview of the role since that's most relevant to the candidate's day-to-day experience.
The first part of the job description that people will see, the overview section is your chance to educate and inspire people about the job opportunity.
It's also your chance to:
Lay out the program as it stands today, its potential, and how the company would like to see the program expand or evolve
Inform candidates of who their target learners are
Share high-level details of how they'll be expected to work (e.g. cross-functionally, agile, etc.)
Share with candidates which role they will be reporting to, the additional make-up of the team, and the department in which this role sits
Job Responsibilities
This section summarizes the duties of the person hired into this role.
This is one of the most important sections of a job description because the more accurate the job expectations section is, the more likely you are to hire the right candidate who can be successful.
The key here is to reduce the expectations vs. reality discrepancies, which usually lead to turnover. You're likely aware of this, but turnover is a very costly mistake, with research showing it costs businesses up to 6 - 9 months of average salary to replace an employee. 
Some things to consider in your Job Responsibilities section:
The heading for this section:
It will indicate the culture of the company and the job role.
There are many names you can use here, including:
"Job Responsibilities" as shown above
"Job Expectations"

"What You'll Do"

"What to Expect"

"You Will"
Again, refer to your company's existing job description template for inspiration, as it will likely align with the company's preferred tone. To a candidate, there is a big difference in the feeling they'll get when they read "Job Expectations" vs. "What you'll do." 
Information to include:
Job duties are most helpful when communicated in bulleted form, as information shared in lengthy paragraphs might bury the lede.
Consider including the following sections:
What this person will be responsible for leading
The goals or metrics that they'll own
How they're expected to communicate with others
Who they're expected to work with
If any, how many people they will be managing and what the roles are
What trainings, if any, they'll be expected to lead, and in what format
Work they're expected to execute (future courses, certification program creation, etc.)
If there is any travel required, how much
And anything else you can think of which will set this person up for success
Below are a few examples of roles with various "job responsibilities" breakdowns.
Consider which is more transparent for the candidate about what they need to do to succeed.
Job Role: Customer Engagement and Education Specialist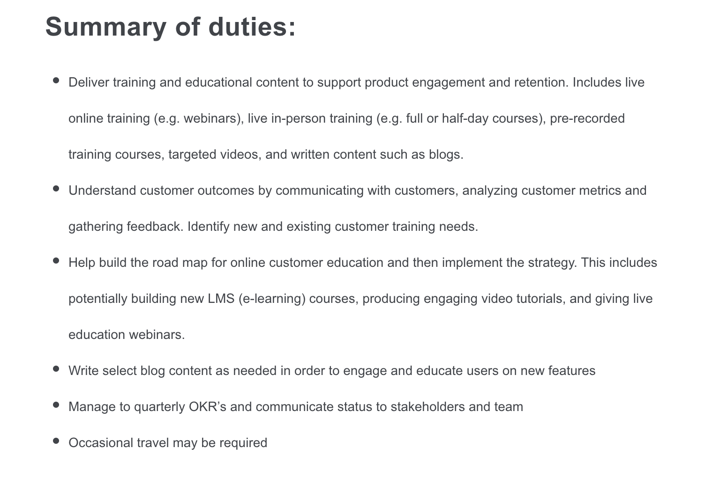 Job Role: Customer Training Specialist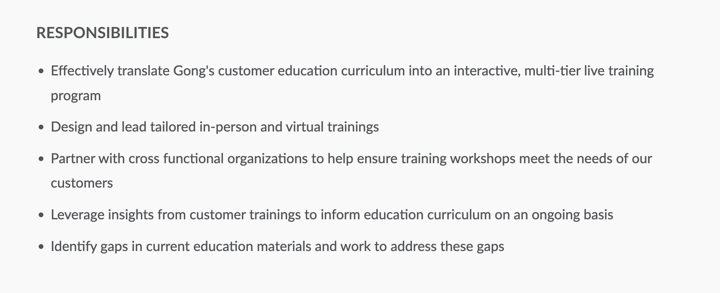 Job Role: Director of Learning Services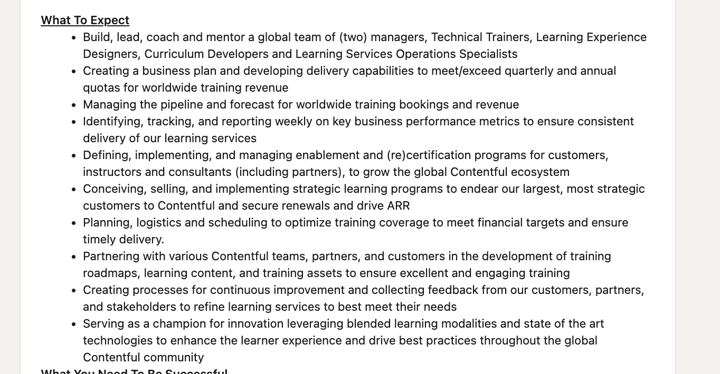 Candidate Requirements
While some jobs have hard-and-fast "need-to-have" requirements, this industry is evolving rapidly, and the list should be more of a "nice-to-have."
If some items are required, make that obvious. And all the rest can be what you'd like them to have but are not required.
Some other naming conventions for this include:
"You'll be a good fit if:"
"Experience and trade knowledge required:"
"Qualifications:"
When putting this section together, consider some of the following:
Explicitly stating the company values they're expected to align with
Prior experience in the role, and number of years preferred
People-management experience
Soft-skills needed
LMS or other software experience
Experience working in SaaS
Education or certification requirements
Highlight travel requirements again
Include time-zone requirements, if there are any
About the Company + Benefits
This next section should include an overview of the company to help the candidate get familiar with your business.
Share what your company does, the company's purpose or mission, and anything else you can share that would help a person to understand what the company exists to achieve.
It should also outline the salary and benefits package offered. Include the base salary, bonuses or incentives, additional benefits and perks (i.e. learning stipends, remote work), and anything else that sets your company apart from other employers.
Lastly, pay transparency is becoming a big trend; Inc. has called 2022 "The Year of Pay Transparency." While some states even legally require you to disclose the salary on the job posting, latest trends suggest that it's a new best practice to give candidates salary information upfront.
Addressing a Candidate's Inner Critic
Some people might discount themselves even though they'd be considered a qualified candidate. Heck, maybe it's something you've done yourself.
Situations like workplace trauma, a loud inner critic, or a feeling of imposter syndrome are just a few of the internal blockers holding people back.
If you want to be a company that encourages people to apply, despite what their brain tells them about whether they're good enough, you can always call that out directly.
HubSpot does this exceptionally well in every job description they post, as shown below:

Call-to-Action
What is the person's next step? To apply!
Be sure to include a link to apply.
---
Lastly, if you'd like to see examples of other customer education job postings live today, here's a list from our Customer Education Open Job Roles in December update.
---
Our mission is to help grow the Academy/Customer Education industry. We hope you found this article helpful, and if you need some extra support before hiring, we're available to hop on a call and discuss your program's leadership strategy.
Disclaimer: We don't offer recruiting or job placement services. We created this article to help fellow leaders and practitioners create hyper-clear job descriptions so they can hire the best potential candidate possible.