At this point it's a foregone conclusion that SaaS businesses need to have a customer education program. The data speaks for itself.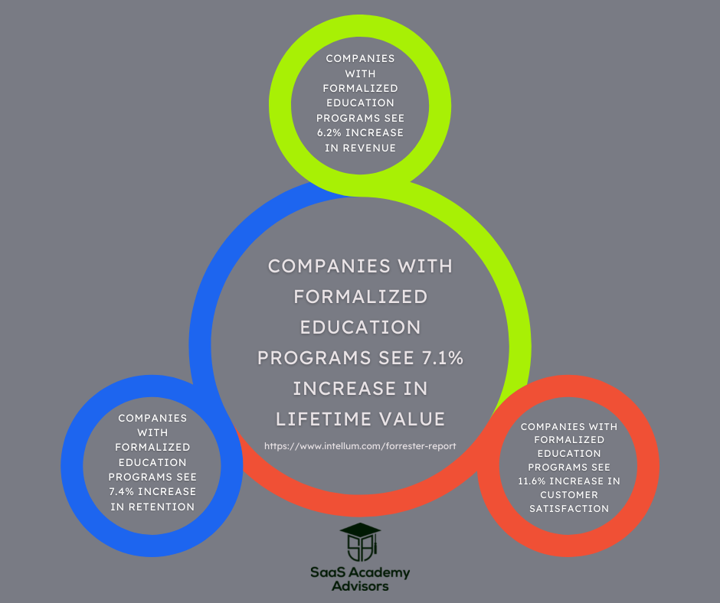 But should your SaaS business invest in an Academy as an evergreen mechanism to influence net new revenue and net dollar retention by:
Build lasting trust in your brand

Spreading your point of view across the market

Engaging and educating an audience of industry professionals and current customers/partners.

Keeping your internal teams educated and aligned

Developing raving fans and the next-gen of industry leaders
This is a much more nuanced question, but if the answer is yes, buckle up because the impact on your business will be significant and long-lasting.
"Educational content makes consumers 131% more likely to buy" ~

Conductor, 2021
Here are some important questions SaaS leadership teams must answer to reach a conclusion if now is the right time to invest in an Academy. The answers two these questions will also support the crafting of a solid Academy program strategy.
1. Is your org strategically investing in category creation/redefinition? 
"Creating a new category is about educating the market about not only new solutions, but often new problems that are not top of mind. This kind of education can't be done merely with a great product or service or traditional marketing. This often needs to be experienced." 

~ Eddie Yoon, Christopher Lochhead and Nicolas Cole, at the 

Harvard Business Review (HBR)
Education is synonymous with category creation and redefinition.
If you answered yes, the question isn't, "Should we launch an Academy?" but rather, "What's the right Academy strategy for our category and audience?"
Be careful trying to copy and paste other category creator's Academy playbooks as tempting as it may seem. There are 20+ internal and external variables that you'll need to address to shape your Academy so that it's an effective evergreen mechanism to influence net new revenue and net dollar retention.
2. Is there a shift in how an industry, department, and/or function needs to operate to optimize business outcomes?
This could be a shift in status quo, technology, or a societal change.
If your organization is positioning itself as the solution to a shift, an Academy program can be a powerful tool to raising awareness of this shift and educating the market on how to capitalize on the shift using your product.
3. Does your organization have a point of view, framework, or methodology that concisely and clearly communicates the "new approach" an organization or person must take in order to capitalize on the "shift"?
It's one thing to be investing in category creation and/or positioning your org as the solution to a shift, but it's another thing to have a framework or methodology that an individual or organization can follow to get repeatable results.
A key element of a framework or methodology that's supporting a "shift" or new category is that it does not require your product to be executed, although your product might just be the best solution to do so.
4. Is your org strategically investing in domain ownership/expertise?
In most cases the individual(s) creating your Academy content will not be the subject matter experts and industry practitioners.
This means they will need to rely on the collective knowledge of marketing, sales, customer success, and product along with partners, customers, industry professionals to produce high-quality industry-leading content.
An organizations Academy is a reflection of the collective knowledge of the entire organization, its connections, and resourcefulness.
If you don't have a high level of domain expertise internally, developing an Academy that drives significant business impact will be significantly more difficult.
5. Is your marketing team already producing valuable content that is educational in nature (blogs, ebooks, templates, guides, podcasts, newsletters, webinars, etc.)
The level of difficultly to create an Academy from scratch without a library of existing educational content can not be understated.
Dig deep here in your analysis; does your existing content provide the tips, tactics, best practices, strategies, and directions necessary to accomplish specific tasks and goals?
Your conclusion here will provide significant insight into how heavy of a lift it will be to bring an impactful Academy program to market.
6. Is your organization customer first - judged by org priorities, actions, and areas of investment not words, slogans, and paid testimonials.
You'll be hard pressed to find an Academy program that's currently driving meaningful business impact at an organization that does not have a customer-first mentality. The reason is quite simple. Successful SaaS Academies educate and inspire business professionals with the goal of said business professionals achieving their organizational and professional goals.
If an organization does not prioritize customers first, they will be hard-pressed to get buy-in and the necessary shared resources to successfully launch and maintain an Academy program.
7. Is your organization focused on long term growth and being the market leader in a category?
The individual contributors of today will be the decision makers of tomorrow.
Educational content is a great way to add value, build trust, and continue to engage with future buyers long before they become a qualified lead.
There are many inputs that will impact how quickly you see a material return on your Academy program investment, but best case scenario you begin to see an ROI at the 12 month mark.
Unlike a quarterly campaign that delivers no meaningful ROI in subsequent quarters once the promotion and ad spend has stopped, your Academy courses and certifications will continue to drive value the longer they are in market.
8. Is your marketing philosophy evolving from building a lead database to an engaged membership community?
Unlike MQLs requesting demos or other high intent leads, in many cases Academy users won't be in the position to purchase within the next 6 months to a year. The reasons vary from currently being in a contract with another company to not being a decision-maker at their organization.
For the segment of Academy users that are not qualified leads, treating them as members of your growing community is a key element to keep them engaged within your ecosystem and providing value until they are ready to purchase. While many will never purchase your software, their advocacy of your Academy program will go a long way.
Don't underestimate the power of Academy advocates for referring and marketing your program on your behalf.
9. Does your sales team already have a playbook for selling content leads?
It's important to analyze your sales strategy.
Engaging and closing a qualified academy lead successfully will vary from that of a typical demo or webinar lead.
Be sure in your analysis includes the necessary sales-enablement resources based on how your sales team currently sells.
10. Do you have an active customer education program?
Successful customer education programs typically focus on educating users on how to achieve their business objectives using their organization's software.
Success typically requires more than just point-and-click product videos. Impactful customer education typically includes industry best practices, strategies, and tactics.
These industry best practices, strategies, and tactics can all potentially be repurposed as assets in your Academy.
Additionally, creating educational content requires significantly more content design than blogs, ebooks, webinars, etc. Double check that your customer education team has repeatable processes in place for designing, developing, and improving course content.
Having a system in place for creating, hosting, and updating educational content will reduce the time to market of your Academy considerably.
11. Do you have the resources to invest in an initiative that will take 18+ months to generate meaningful ROI?
Developing an Academy is much like developing a SaaS product.
You win with MVPs, betas, and continuous iteration.
The drawback to this of course is that finding your product market fit and building a product that solves enough use cases to be attractive to a market takes time.
If you don't have budget set aside for long-term bets and executive team patience, do yourself a favor and hold off launching an Academy until you can make a strong case and get everyone on board.
12. How will you achieve/maintain category leadership when your prospects and current customers are going to your competitors to develop and grow their professional skill set and industry expertise?
With SaaS category leaders across the board investing in Academies (check out G2.com Category Grid Report leaders, most have Academies), it's becoming more and more difficult to kick the preverbal "Academy can" down the road.
You'll be hard-pressed to find a SaaS category leader in 3 years that does not have an Academy.
What you'll be able to easily find is half baked Academies from SaaS businesses struggling to gain marketshare because they failed to address the questions above and craft an Academy strategy specific to their organization's strategy, product, and market.
---
What we do at SaaS Academy Advisors
We spend the majority of our days advising high growth B2B SaaS businesses on how to start and scale their Customer Education and Academy programs.
If you're considering launching an Academy program or doubling down on an existing initiative we'd love to chat. Grab some time with us here, and don't worry...no sales pitch coming from us.