Benefits of Customer Education
There is a myriad of benefits to investing in a Customer Education program.
The most prominent being, it has a profound impact on a business' top-line metrics.
Top-line metrics are the metrics that executives and senior leaders care about most, and what they consider when weighing the options of what to put valuable company dollars to.
Understanding how a customer education program can generate revenue, increase retention, or upsell or cross-sell software can make the difference between making an investment in the program or not.
The numbers of why formalized education matters:
Forrester quantified the impact on an organization when there is a formalized customer education program. They found the following results:
6.2% increase in revenue

7.4% increase in customer retention

7.1% increase in lifetime value

11.6% increase in customer satisfaction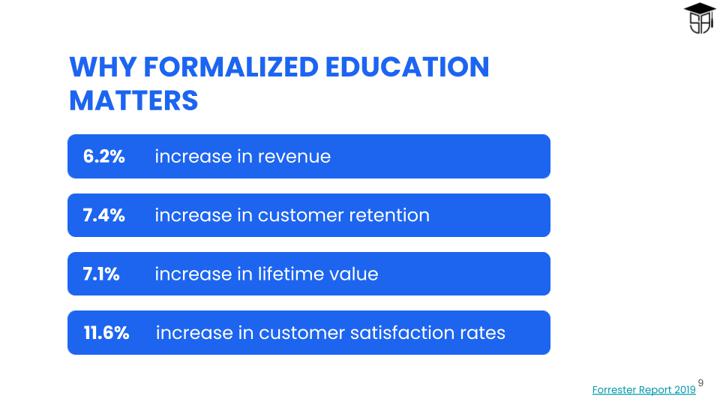 Ultimately, companies that choose to educate the market and set it up skillfully can expect the following benefits:
Increase in product adoption

Increase in time-to-value

Increase in cross-sell/upsell

Increase logo ratio for CSMs (improved ROI for CSMs)

Increase in sales velocity or time-to-close

Increase in conference and user group attendance and community engagement

Increase in the number of users who provide crucial software feedback

Increase in company promoters and customers. Your successful customers convert into promoters for your business which act as a megaphone spreading the word of what's possible with your software, resulting in more leads and customers.
As Mailchimp says in their piece on customer education.
It may be obvious, but it's worth reiterating: people need to know how to use whatever it is you're selling. And, if you're offering something new and disruptive, it's especially important to play an active role in guiding people. Accurate and accessible customer education is key. 
And while everything above simply focuses on helping your customers to better understand and use your software, the bigger picture of where your education program could go when it's a well-oiled, effective machine is profound.
The value can extend beyond customers and travel into other areas of the business.
When your customer education program is effective at getting it's intended results, it makes sense to begin using the same education to educate new hires and partners, so that everyone has the same unified message and ability to succeed.
Beyond that, when you've optimized your content creation and update processes, you're likely ready to widen your focus and leverage those same processes for industry or market education.