Is it me, or have there been a lot of discussions lately about whether customer education should report to Marketing? Here's an interesting thread via Dave Derington on Linkedin if you missed it.
And while that's a worthwhile discussion, this post isn't about that. However, it did inspire this post.
Whether CE sits in CS, marketing, product, or L&D -- there's a lot to learn from other departments about how to run a powerful customer education program.
More specifically, this post is about five basic marketing strategies and tactics CE professionals can use to grow their program's learner base.
Because, after all, growth is a significant function of a marketer's role.
So if you're hoping to increase your number of learners in 2023, this post is for you.
1. Collect data & analyze it for significant trends
Marketers are data-driven by nature.
However, that wasn't always the case.
Before the birth of the internet, there was almost zero ability to know what marketing campaigns worked.
Here's a quote related to that very problem:
"Half my advertising spend is wasted; the trouble is, I don't know which half." - John Wanamaker
But now, with the transition to digital marketing, the marketing efforts which are working are much more evident.
And once marketers began to focus on the power of data to make informed decisions about where to invest their effort, time, money, headcount, and other resources -- they became infinitely more successful and influential in the future of the business.
I believe Customer Education professionals are now at a similar inflection point marketers experienced many moons ago at the birth of the internet. With everything being online, more data is available for collecting and reviewing.
Ultimately, to be successful, never mind growing your program, you must become equally data-driven.
Because without supporting data, you won't be able to know what's working, where to invest additional efforts, or communicate the value of your program.
Which makes tracking and analyzing data one of the most worthwhile pursuits.
However, if you've never been data-driven before, it is daunting.
You might wonder what essential metrics to track, where to get the data, what to do with it, what the story is, and what is worth reporting on.
These are all questions I had when first starting out. One thing I found was that taking baby steps toward becoming more knowledgeable, and proficient opened many career-related doors that wouldn't have been opened otherwise.
So where does one start?
Well, here are some key metrics to understand within your function RELATED TO GROWTH, include:
Raw data around the number of websites visitors to education-specific content, course registrations, the course passes (and fails), etc.
Conversion rates (which we get to directly below): Using the raw data above, you can convert those numbers into percentages to see your visit-to-course-registration rates, for example, and use that as a starting benchmark to improve.
Additionally, top sources of traffic (like what websites, social, referral links, etc.) people are finding your education content from, and which ones convert into registrations best.
If you're looking to start collecting the correct data or making sense of the data you already have, let's see if we can help.
2. Improve your program's various conversion rates
After creating ways to track your data and identify its story, the most crucialcrucial marketing-ish activity you should undertake is improving your conversion rates.
If conversion rates is a new term for you, here's a definition:
The conversion rate is the percentage of users who take a desired action. 
Conversion rates are a way to look at the funnel and see percentages of learners who are moving to the next desired step.
This approach is so essential to marketing and sales success, that Johnny Cheng, a Platform Product Marketing Manager at Marketo, had this to say about conversion rates:
"Conversion rate is one of the most important marketing metrics. It's a metric that lead generation marketers—from practitioners all the way up to CMOs—are measured on."
But since we're talking about your customer education program, here's what a sample Certification funnel might look like for a customer education program: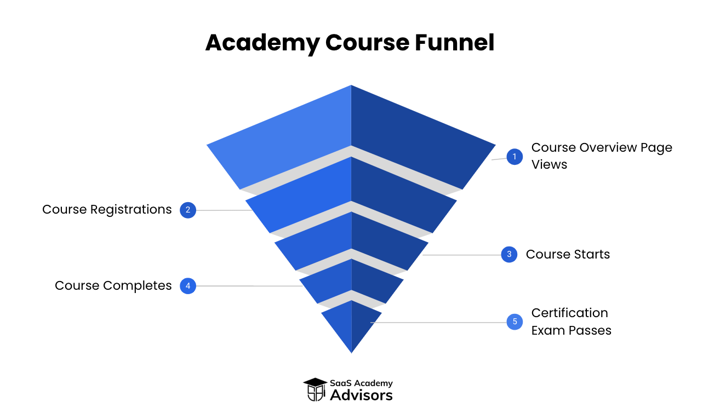 Note: This doesn't include any payment pages or login pages, but that might be something you want to track at the start or when you're ready to get more granular.
How to Calculate Your Conversion Rates
To calculate your conversion rates, you must first have access to the raw data of each stage of your funnel.
Once you have that, you can use the formula to identify each stage's conversion rate and your overall funnel's conversion rate.
To identify your funnel's conversion rates for the first step in your funnel, you would use the following formula:
Conversion Rate = Total number of conversions / Total number of sign-ups * 100
Here's an example of this in practice. Let's say you have the following:
8,000 people view your flagship course registration page
200 people sign up for the course
The formula would be:
(200/8,000) * 100 = a 2.5% page view-to-sign up conversion rate
Why Conversion Rates Matter So Much
Starting with conversion rate optimization is essential because when you know your conversion rates, you can see which parts of your funnel are potentially leaky and need improving.
And we don't take leaky funnels lightly here.
Plugging up a leaky funnel is essential before you embark on any other marketing activity because every time you have low conversion rates, it means people are dropping off. By simply improving the conversion rates (we share some tips below), you're able to convert more people at each step to the next.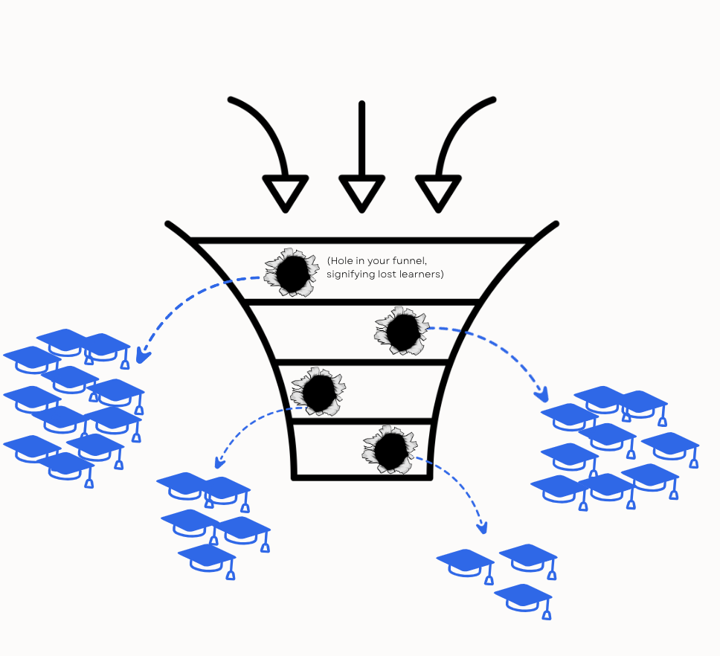 Notice in the graphic above that potential learners are dropping off at each stage of the funnel. By improving your funnel experience, you keep them in your funnel resulting in more people at each step, and, thus more learners who become certified.
It might sound small, but if you plan to drive any more traffic to your registration pages or any part of your funnel, you'll see that it's imperative to start here.
Example: Conversion Rates for a Certification Funnel
Here's a graphic highlighting the various conversion points that could be tracked so they can be improved.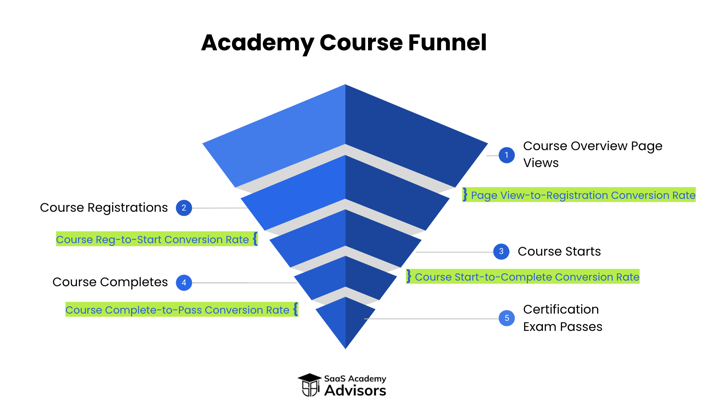 Again, the graphic above doesn't include any payment pages or login pages which might be something you have and decide to track.
Ways to improve your conversion rates today
If you're looking for easy wins you can use today to improve several parts of your funnel, the ideas below are some basic strategies we advise clients on and also used to grow the HubSpot Academy learner base:
How to improve "Course Page Views-to-Course Registrations" rates:
Can people identify if this program will help them to accomplish their goal?
Is the page compelling and clear in its offering?
Does it emphasize the outcome people will receive or the transformation they will undergo from taking this certification course?
Do you have testimonials from other students or some form of social proof demonstrating you've delivered on your offer?
How to improve "Course Sign Up-to-Course Complete" rates:
If you haven't already, introduce some nurturing emailnurturing emailnurturing email workflows to keep their commitment to learning top of mind.
If you already have a nurturing campaign, look for areas to improve the emails' open rates and click-throughs.
Look at the behavioral data to identify the typical time frame that people complete the course within (say ten days), and used that as the driving force for how your email nurturing campaigns were designed we even shared that behavioral information within our emails to let people see if they were on track.
How to improve your "Exam Fail-to-Pass" rates:
Review your certification assessment to ensure the top questions which people get wrong are

clearly worded,

taught well within the course materials, and aligned with your exam style guide.
Send nurturing emails to people who fail to let them know when they can retake the exam next with links to study materials. Or if you have these already, improve their open and click-through rates.
Send another nurturing email when the exam opens for another attempt so that people can try again when they're available.
While it might be tempting to look at benchmark data to know if your program is doing well or could be doing better, focus on your own metrics and use yourself as the benchmark for growth. Using your past data as your benchmark for progress is easier than scouring for the perfect apples-to-apples industry benchmark and more motivating for the team because they can see how they're steadily improving over time.
3. Improve your On-Page SEO
What is On-Page SEO?
HubSpot defines it as:
On-page SEO, or on-site SEO, is the process of optimizing various front-end and back-end components of your website so that it ranks in search engines and brings in new traffic. On-page SEO components include content elements, site architecture elements, and HTML elements.
Why On-Page SEO is Important
On-page SEO is essential for every Customer Education professional because it informs Google what your content is about, which helps your site be optimized for both humans and search engine bots.
The beauty of on-page SEO is that it's something that's usually relatively easy to update. It can have an immediate, measurable impact on your ability to rank, which, stated above, will ultimately increase traffic to your website pages which is the first step in your course funnels.
How to Improve On-Page SEO
Review and update critical elements (there's a checklist below) of your public-facing website pages for ways to improve clarity.
There are key elements to your website page's On-Page SEO. They are as follows:
High-Quality Page Content
Page Names
Headers
Meta Descriptions
Image Alt-text
Structured Markup
Page URLs
Internal Linking
Mobile Responsiveness
Site Speed
Example of (some of the items above) on a course registration page: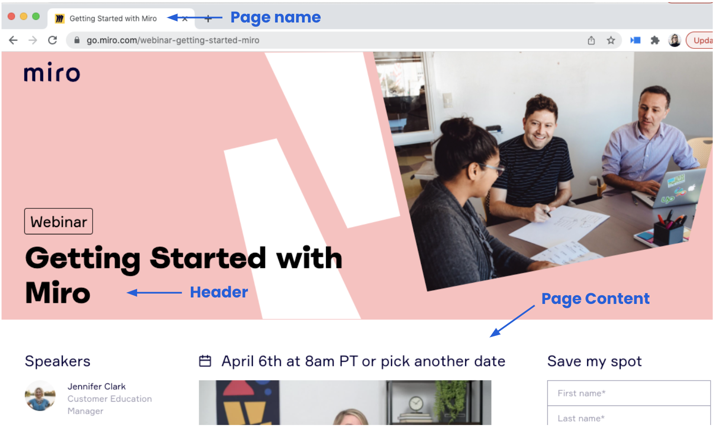 Sometime these are owned by the marketing team if they own the website. However, this isn't something that you should entirely rely on them to do and do well.
Understanding these concepts above can help ensure you get the most out of your public-facing content.
If these are new concepts to you, it's worth digging in deeper on this post, dedicated to understanding On-Page SEO and how you can make the most of your existing content.
4. Work with your existing marketing team to fuel learner growth
If you work for a high-functioning business, there's likely one thing your team does well -- collaborate.
Marketers are especially always collaborating with peers with their department because that's what it takes to build a well-oiled marketing machine. Also, everyone work impacts the work of others.
By aligning with marketing and collaborating oyou cane able to create win-win-win scenarios (win for marketing, win for you, and win for prospects) that help everyone get what they need.
One game-changing strategy we used at HubSpot for our Academy was identifying top HubSpot blog posts or pillar pages that our marketing team created, which would benefit from adding a link within it to our HubSpot Academy content.
What top website pages generate meaningful traffic that would make sense to link to your educational content?
One thing to note, while this strategy is excellent for prospect-focused content, it might not work if you're customer education is customer-only content.
5. Generate additional opportunities for growth
Marketers arconstantlyys collach other, but they're also expanding beyond their own team to identify opportunities to grow.
There is a significant opportunity for customer education professionals to do this too.
Some ways to expand beyond your own company and CE role to fuel your program's growth include:
Finding lists online of "top courses" in your niche and ask them for a link to your content.
Write your own "Top [insert your niche here] Courses" on your website or on Medium.com.
Include thought leaders within your content in return, they help you promote it to their audience.
Look for top podcasts in your niche to be interviewed on, or interview other top experts on your own podcast.
Cross-promote courses where appropriate
Post on LinkedIn or social
Condense down topics from courses and turn it into a guest blog posts to generate backlinks to your course pages.
In summary, to create a world-class customer education program, you have to think beyond customer education and leverage ideas, frameworks, and strategies from other departments or disciplines. When you're looking to grow your program, marketing is an excellent discipline to learn from. What am I missing? What would you add?
---
What we do at SaaS Academy Advisors
We spend our days advising high-growth B2B SaaS businesses on how to start and scale their Customer Education and Academy programs.
If you're launching an Academy program or doubling down on an existing initiative, we'd love to see if we can help.