When I was first given the goal to 10x the number of program learners from HubSpot's then-CEO, I wasn't sure where to start.
Until then, I'd been our team's instructional designer and was hyper-focused on making the best educational program possible.
Additionally, the amount of time I had to dedicate to marketing efforts and growth was low (read: barely there).
To say I was nervous is an understatement.
I kept coming back to questions like:
How could I grow the program 10x?
Where do I start?
How can I do this if I don't have a budget, people resources, or someone helping to guide me?
I hadn't even heard of the 10x principle before, so I couldn't find anybody to learn from, and nothing showed up when I Googled it.
However, I was lucky enough to have access to some of the most brilliant marketers and leaders in software -- the other HubSpotters.
After connecting with many others and considering the many approaches, I distilled everything down into two approaches: Internal Marketing & External Marketing.
First, I could align with the various marketing leaders and teams and use that to grow the learner numbers. This seemed appealing because I only had 25% time to dedicate to "marketing efforts," and it would be much easier than trying to become an FTE marketer. And plus, even as a full-time marketer, it would be a stretch to reach this 10x goal.
Secondly, I could use my marketing background to do marketingy-things to increase the number of learners. This would include writing blog posts, getting back-links to our certifications, improving the product to make it sharable and viral to increase WOM, and so much more.
Where would you start?
Why marketing your Academy program matters
While it's tempting to write this off simply because the word "marketing" is in the header, most successful Customer Education leaders know that marketing their CE program is non-negotiable.
And you may not realize it, but you're likely already doing some marketing with your role today. Every time you write the overview page for a lesson, class, course, or certification -- it's marketing. Whenever you collect customer testimonials and share them throughout your registration process, that's marketing.
Without growth, you won't have a significant impact.
The Internal vs. External Marketing Framework for Customer Education professionals:
The premise is that you can do things to increase the discoverability of your customer education program, and they can be broken up into two buckets: 
internal marketing 
external marketing
Depending on your target learners, company size, maturity, resources available, and your team's expertise and passions -- one might be more helpful for you than the other. 
Here's how I break down the two:
Internal marketing
Internal marketing is about leveraging existing company processes & programs to grow the learner base.
This type of "marketing" focuses on understanding the customer journey and identifying Magic Moments where customers need or want additional education or training. Magic Moments could be when they first purchase the software, open a new app for the first time, have a new user hired, etc.
Once you understand these significant moments, marketing internally becomes about educating and communicating to other employees how your training can support customers in their journey toward success.
For example:
If you've created an onboarding course for new software administrators -- there are many ways you can align with others to increase learner growth.
Below are just a few:
Work with your CSMs to:
Create a process (e.g., email workflow) that lets every new customer assigned to them know about the onboarding course, and leverage it to see success quicker.
Get it in the hands of new account Point-of-Contacts (POCs).
Create a process to identify at-risk accounts that would benefit from taking the onboarding course or some portions of it.
Work with your sales team to:
Include this onboarding course in pre-sales conversations to differentiate yourself from competitors and set customers up for success.
Work with your product team to:
Include links to specific training sections within the software for just-in-time training.
Work with the marketing team to:
Align with product or customer marketers who have similar goals to see if it makes sense to link to your course within their customer-facing marketing campaigns
Launch a live version of the onboarding course for new customers at your annual conference.
Work with the L&D team to:
Create a new process for new hires to become onboarded to the company and the software using your training. Not only does this alleviate training time on the L&D team, but it increases continuity in training and empowers customer-facing employees to speak to the training's value and content knowledgeably.
External marketing
External marketing is where you, or your team, act like a marketer.
There are two main ways that I like to think about growing a program's learners when doing the marketing myself.
Tightening up the marketing funnel
According to Sprout Social, a marketing funnel:
describes your customer's journey with you.
From the initial stages, when someone learns about your business, to the purchasing stage, marketing funnels map routes to conversion and beyond.
With careful analysis, a marketing funnel lets you know what your company must do to influence consumers at certain stages. By evaluating your funnels, you can drive greater sales, loyalty, and stronger brand awareness.
A marketing funnel is a visual representation of how a customer goes through various stages of education to finally decide to purchase something and hopefully become a champion of your business.
The first stage is where a prospect is "problem-aware." It means they're aware of a problem and are now looking for ways to solve it.
As they learn how to solve their problem, they learn that there are different solutions to help them address their problems. At this point, they become "solution-aware."
Then they move on to the "product-aware" stage, where they evaluate the different vendors or options available to help them solve their problem. What results in this stage is an active decision to select one vendor or product over another.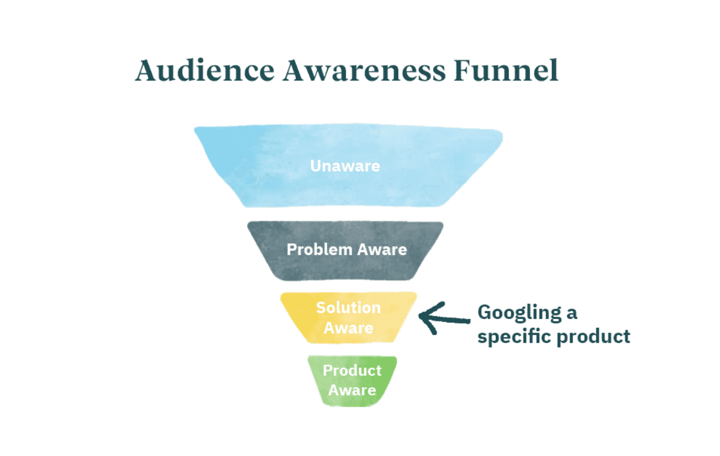 While your marketing team already knows and thinks about these three stages regularly when creating content or marketing campaigns, it is something that every customer education professional must know too.
How it relates to customer education is because each one of your learners goes through a similar process to become introduced to their education as a solution for their problems and needs.
They realize they need help, whether it's how to use your software or their resume doesn't stand out as they'd like. They learn that there are resources and people to help them achieve their goals, and ultimately choose the classes, courses, or certifications to solve their problems.
The thing about the marketing funnel, or their education journey, is that you need to have content at each stage of the funnel for them to consume. The content you create- blog posts, certification overview pages, and nurturing email sequences- helps them to move through each stage.
And when you have the entire process created and mapped out, you make another type of funnel, a user experience funnel. 
This type of funnel is one that you can track and then analyze to determine which parts of your funnel are working and which areas need work.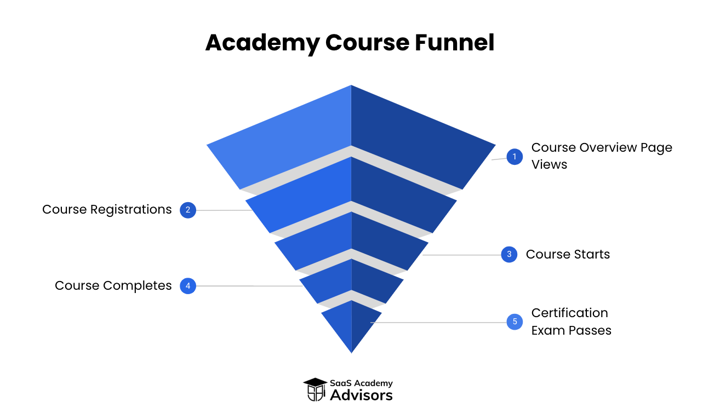 Each part of your funnel will look different based on your program, but some metrics you can track and determine the success of your funnel include:
Course overview page views to sign-up rates
Sign-up rates to start training rates
Start training to complete training rates
Complete training to certification exam pass (if you have a certification)
There are many more steps that you can track, but the conversion rates above let you know how your customer education funnel is working.
The goal of marketing your program yourself using the funnels above is to understand how to set up an excellent customer journey and optimize a funnel so that each stage of the journey is fine-tuned.
Increasing awareness at the top of the funnel
Once you've created content at each stage of your journey and have optimized the funnel (conversion rates), you're ready to start adding more people to the various stages of the funnel.
There are many ways you can increase awareness and demand for your Academy program, and some of them include the following:
Increasing organic search results by creating excellent course overview pages that are SEO optimized
Social media marketing
Back-linking or cross-linking strategies with people who are writing content in your niche that would benefit from mentioning your program (i.e., search for "top certification in (your industry)" and look for ways to get included)
Customer Advocacy or Affiliate programs for people to share their love and successes with your training (word-of-mouth)
Content creation on sites like Medium to tap into an additional audience
And so much more
Becoming the marketer is about using you and your team's skillsets and motivations to greater awareness, demand, and adoption of the content you already invest time, energy, and resources into creating.
What we do at SaaS Academy Advisors
We spend our days advising high-growth B2B SaaS businesses on how to start and scale their Customer Education and Academy programs.
If you're considering launching an Academy program or doubling down on an existing initiative, we'd love to chat (and don't worry, there's no sales pitch).