Are you looking for ways to make your customer education content more effective and engaging? 
Mapping your customer education content formats will help to make better content, and it's also a great way to streamline your process because it allows you to:
organize and plan your content
determine which formats work best for your customers
make the most of each format
decide which formats you should focus on more 
So read on about content mapping – your customers will thank you!
Start with the customer in mind
Before jumping into a content map, and no matter what industry you're in, it's essential to always start with the customer in mind. What does the customer need to know, and in what format would they like to consume that information? 
Learner personas are a great way to get inside the mind of your target learner, and focusing on your education can help you create a truly learner-centric experience.
If you need to familiarize yourself with your customers and/or learner personas, start with these questions:
Who are they? 
What do they like? 
What motivates them? 
What frustrates them? 
What are their learning goals?
It all comes down to providing customer training that meets the needs of your specific learner. Only then can you be sure that you're providing the best possible learning experience.
[For more on learner personas, check out this interview I did with Northpass centered around understanding your learners.]
Design learning outcomes 
What connects the content format to the learner persona is a learning outcome. 
A learning outcome is a specific, measurable goal that a learner is expected to achieve as the result of engaging in a particular learning activity. For the purpose of mapping your content formats, the learning outcome is tied to desired cognitive outcomes or the skills and knowledge your learners are expected to develop.
For instance, if your customer were to read that blog post you just published, what would you expect them to be able to do? What about after they finish watching a video? Or a course?
Learning outcomes can be written out as "Learner will be able to…"
A better way to understand this is with Bloom's Taxonomy. 
Bloom's Taxonomy is a powerful tool to help develop learning outcomes because it explains the process of learning:
Before you can understand a concept, you must remember it.
To apply a concept, you must first understand it.
To evaluate a process, you must have analyzed it.
To create an accurate conclusion, you must have completed a thorough evaluation.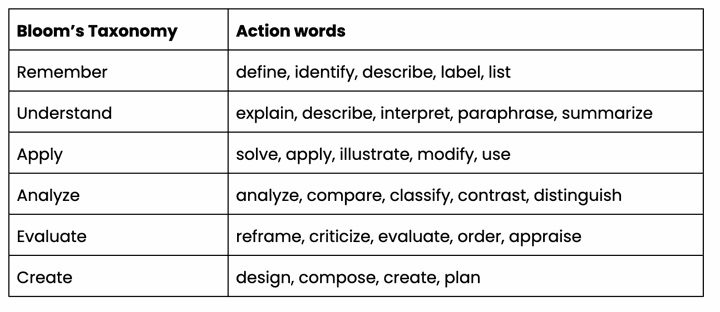 Your learning outcomes would look something like this:
Learner will be able to define [topic]
Learner will be able to create [topic]
Learner will be able to use [topic]
Create a content map that outlines all the different topics you'll cover and what format each piece of content will take (e.g., blog post, video, infographic)
Different content formats are best suited for achieving different learning outcomes. 
When writing your learning outcomes, you must match the cognitive outcome you hope to achieve with the most appropriate content format.
A content map is an essential tool for any content creator. It helps to outline all the topics you'll cover and what format each piece of content will take. This can be extremely helpful when planning and creating new content and is no different when you're creating customer education. This ensures that you don't miss anything important. 
Here are some different customer education content formats and how they might map to different cognitive levels. Your content strategy might look different, and that's okay. What's important is that you are internally in agreement with how each of these formats are defined. 
There are a few different ways to create a content map. One method is to create a list of all the topics you want to cover and then decide which format would be best for each. 
For example, some topics would make good blog posts, while others are better suited for courses or video training lessons.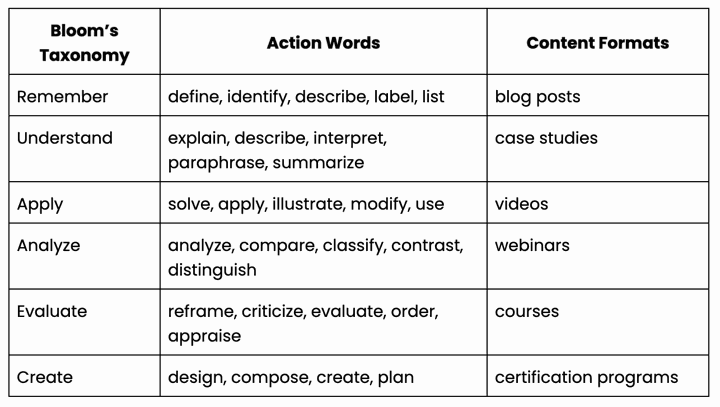 There are a few different ways to create a content map. One method is to create a list of all the topics you want to cover, and then decide which format would be best for each one. 
For example, you might decide that some topics would make good blog posts, while others would be better suited for courses or video training lesson.

Whichever method you choose, a content map is a valuable tool that will help you plan and create high-quality content.
Use data from your sales & support teams to understand which topics are most popular and needed
At its core, customer success is all about ensuring that your customers are able to achieve their desired outcomes with your product or service.
To do this effectively, you need to have a deep understanding of what your customers are trying to accomplish, and which topics are most important to them. This is where data from your sales and support teams can be invaluable. By tracking the most popular topics and customer questions, you can get a better sense of what content needs to be developed, and which content topics need more attention. This information can then be used to create targeted customer education materials, or to adjust your retention strategy accordingly. 
Work with your team to create the content, making sure the format aligns with the learning outcome
Customer education is essential to your success as it helps customers understand your product or service and feel confident about their purchase. It can also lead to customer loyalty and repeat business. But developing high-quality content is a team effort. Every team member should be committed to creating content that is informative, engaging, and helpful.
To produce the best customer education content, work with your team to brainstorm ideas, assign roles, and set deadlines. Then, get creative and put your own spin on the content to make it unique to your brand. Remember, internal alignment around formats is key. 
There are a number of ways to promote customer education content, and the best approach will vary depending on the goals, target audience, and format of the content. Customer education should be promoted through more direct channels such as customer support or sales teams. By taking a strategic and tailored approach to promoting customer education content, businesses can ensure that the right people are seeing the content and that it is having the desired impact.
By considering your customers' needs and using data-driven content, you can create a customer education strategy that's both effective and engaging. It may take a little effort to get started, but the payoff is worth it. Are you ready to get started?
---
What we do at SaaS Academy Advisors
We spend our days advising high-growth B2B SaaS businesses on how to start and scale their Customer Education and Academy programs.
If you're considering launching an Academy program or doubling down on an existing initiative we'd love to chat (and don't worry, there's no sales pitch).